Ultrasonic Leak Detection
COMPRESSED AIR IS AN EXPENSIVE ENERGY 20 TO 40 % IS LOST IN LEAKS ?
WHY IS THE LEAKSHOOTER LKS-1000V2 / LKS-1000V3 THE BEST ULTRASONIC LEAK DETECTOR ?
-The possibility of ultrasonic detection with a visible image, while detecting the ultrasonic noise made by the leaks, is a unique patented technology of SYNERGYS TECHNOLOGIES.
For the first time it is possible to see on a large LCD screen the precise location of compressed air and gas leaks, vacuum leaks, thanks to a dynamic target which varies in size and colour, from yellow to red, depending on the severity of the problem.
-Adjustable frequency from 34 kHz to 46 kHz enabling detection of even the smallest leaks
-Adjustable gain from 50 dB to 110 dB for use in any kind of surrounding environment.
-Great detection sensitivity enabling to detect a leak of 0.1 mm under 3 bar at a distance of 20 m.
-Continuous measurement of dB, RMS and MAX, displayed on a colour bargraph on the bottom of the screen.
-The operator can locate the problems, even without headphones.
-With the 400 mm ultrasonic flexible probe, LKSFLEX, which can be bent to odd angles, the LEAKSHOOTER LKS 1000 detects leaks in hard to reach areas.
-With the ultrasonic contact probe, LKSPROBE, the LEAKSHOOTER LKS1000 makes steam trap inspection and bearing monitoring easy.
APPLICATIONS:
-Detection of Compressed air and Gas leaks
-Detection of Vacuum leaks
-Inspection of Steam trap
-Inspection of Bearing and valve
-Electric discharges, tracking and corona detection

LKS-1000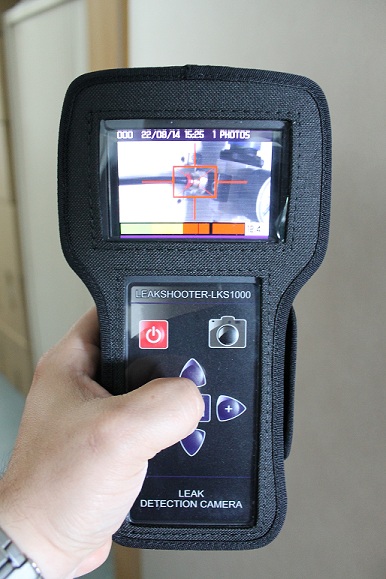 REPRESENTED BRANDS: