Laser Distance Measurement
Laser Distance Measurement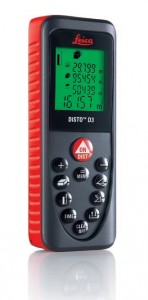 NEW! Leica DISTO™ D3
The robust one – for indoor with outdoor aspirations
The multi-talented one – Measuring made easy – your robust and reliable partner!
The Leica DISTO™ D3 is a multi-functional instrument to ensure simple, quick and reliable measurements. You can measure distances with absolute accuracy, past obstructions and determine angles quickly and precisely. The integrated tilt sensor also provides you with a horizontal distance measurement. Another sensor detects the lighting conditions and automatically switches on the display and keypad illumination. You can rely on your Leica DISTO™ D3 while working in the dark.
Robust with IP54
Fits perfectly into the pocket and useful for each application.
Automatic keypad and display illumination
A built-in sensor detects if the environment is dark and switches on the illumination of the keypad and display. You can also measure in the dark without any problem.
Multiple functions
The Leica DISTO™ D3 can also calculate areas, volumes, room dimensions and various types of Pythagorean functions. A time delay release and enough memory for up to 20 measurements finish off the instruments wide range of functions – a concept designed to make your work easier.
Tilt angle measurement
The instrument's inbuilt tilt sensor quickly and simply determines tilts up to ± 45°. The tilt sensor can also provide you with true horizontal distances. Reliable measurements are therefore guaranteed.
Multifunctional end piece
Aim the instrument straight at the target point, whether measuring out of corners, slots or from edges: with this end piece you are prepared for all measuring situations. The instrument detects the end piece automatically, which helps you avoid expensive measuring errors.
NEW! Leica DISTO™ D5
Your powerful partner for outdoors
World First: First laser distance meter with digital Pointfinder (4x zoom), large 2.4" color display and ± 45°tilt sensor is now available!
The Leica DISTO™ D5 is designed with many functions and features to make measuring easier, particularly when you are working outdoors.
– Robust with IP 54
– Digital Pointfinder with 4x zoom
– Inclination measurement up to ± 45°
– Large colour display screen (2.4 inches)
– Power Range Technology™
Digital Pointfinder
The integrated digital Pointfinder with a 4x zoom and 2.4" color display makes finding the target at long distances much easier. Its high resolution capability provides a sharp, crystal-clear image, which allows measurements to be taken even in glaring sunshine.
Tilt sensor
Thanks to the in-built tilt sensor, you can quickly and simply measure tilts up to ± 45°. The tilt sensor also allows you to measure absolutely horizontally or measure past obstructions (horizontal distance).
Power Range Technology™
The integrated Power Range Technology™ allows you to measure long distances very simply. Measure up to 100 m without a target plate, and even up to 200 m using a target plate, without having to take a single step.
Spot-on measurement
The laser makes it possible! The laser dot is clearly visible, therefore you always know exactly where you are measuring, which is especially useful in difficult to access places. So you can take absolutely precise measurements, even over long distances.
REPRESENTED BRANDS: